RapidEssay.com Review
RapidEssay.com Review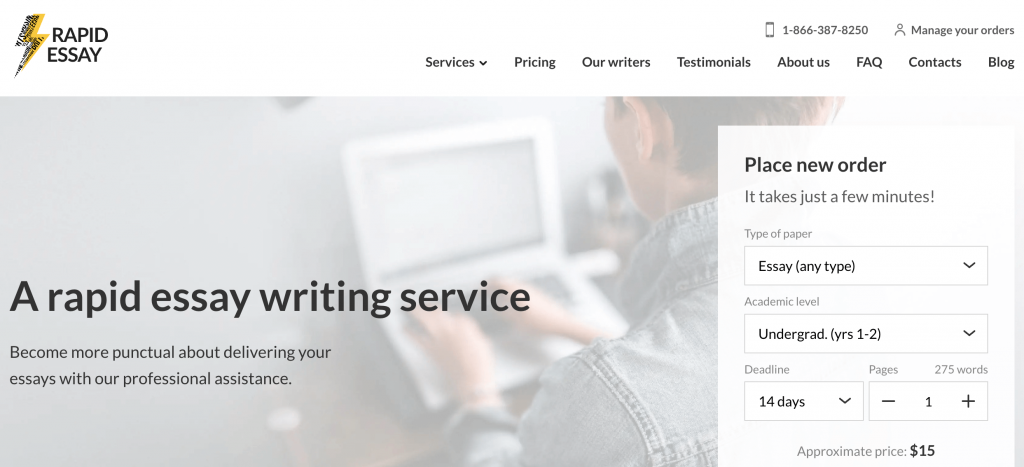 RapidEssay.com offers writing services from acclaimed experts, free plagiarism checkers, and live chat with their customer care agents. College students can hire them for various academic services. This is not so special because other writing companies offer a better and wider range of services.
Although their website is quite easy to navigate, it has a boring look at first sight. The layout is bland. The homepage has a lot of unorganized information, making it look unattractive and jam-packed.
The colors used for the website layout are too regular and not catchy. However, after requesting their services and interacting with their customer support agent, we have a lot of experience to share with you. This RapidEssay.com review is here to provide you with the detailed information you need before ordering a paper.
Services Provided
Our RapidEssay review has shown that they offer quite some writing services, which include:
Argumentative Essay
Research Paper
Coursework
Academic Paper Writing
Literature Review
Case Study
Term Paper
Review
Personal Statement
Critical Thinking
Thesis
Dissertation
Lab report
It is awkward to know that despite listing out the range of their services, they had no brief description for each of the services. No samples were provided either. They leave the details of their services to the imagination of the students. Not impressive.
Prices and Discount
At Rapid Essay, they claim to charge $10 per page as written on their homepage, which is not the most affordable service around. After clicking on their order page, we discovered that it was $14 per page. There's only a thin line between honesty and insincerity. In this area, they disappointed us.
It was sad to discover that they offer no discount for new and long-term customers. This is not encouraging. They have no information about their prices or range of services on their homepage. So, you'll have no idea of the price till you're ready to pay.
The benefits they claim to offer are only the basic things that a writing service should have. Various Rapid Essay reviews show that the company barely stays faithful to its promises.
Quality
Utterly disappointing.
Strictly for the purpose of this Rapid Essay review, we ordered a 3-page master's level paper with a 7-day deadline for $72. The quality of the paper we got doesn't justify the high price and delay. We received our paper 24 hours after the deadline. The live chat was not responsive when we tried reaching out. It was difficult for us to reach the writer. This was not even the worst.
The paper had 30% plagiarized content for a service that claimed to offer 100% original essays. The research was poorly done, and had a lot of repetition, and bad use of grammar and punctuations all for $72. So exploitative!
From our RapidEssay reviews, we discovered that their quality was below what we expected from them. They claimed to have highly-qualified and skilled writers, but they fell short of what they claimed to be. Their quality is exaggerated.
Support
Their acclaimed 24/7 support is a time-waster. Customer support is meant for building relationships, but the reverse is the case for them. After receiving the poorly researched paper, we reached out to them for a revision. It was hard to get their response after several messages. It was energy-sapping.
They later revised the paper, but the support team failed to apologize after we expressed our grievances about the plagiarized content. Even after the revision, what we got was different from what we initially requested. They need to do better.
General Impression
Knowing that a few students actually use RapidEssay for their assignments is heartbreaking. It will definitely be a minus on their school grades. Judging from our experience, it was a total waste of time and money. We are not impressed, but the waste of money is worth it because our mission is to help you avoid such a costly mistake.
Do We Recommend RapidEssay?
No, we don't recommend this service to anyone.
You can use your money for something more productive. Their paper writing service is disappointing, and we do not want anyone to go through such. If you are the type that likes quality, this college essay writing service is definitely not the right place for you. They need to improve their content, support system, website, and writing style. Our order was for master's level paper, but what we got won't even go well with a high school teacher.
If you don't want to have a pathetic experience, look elsewhere for high-quality essays. There are other affordable and quality services out there.