PaperCoach.net review
PaperCoach.net review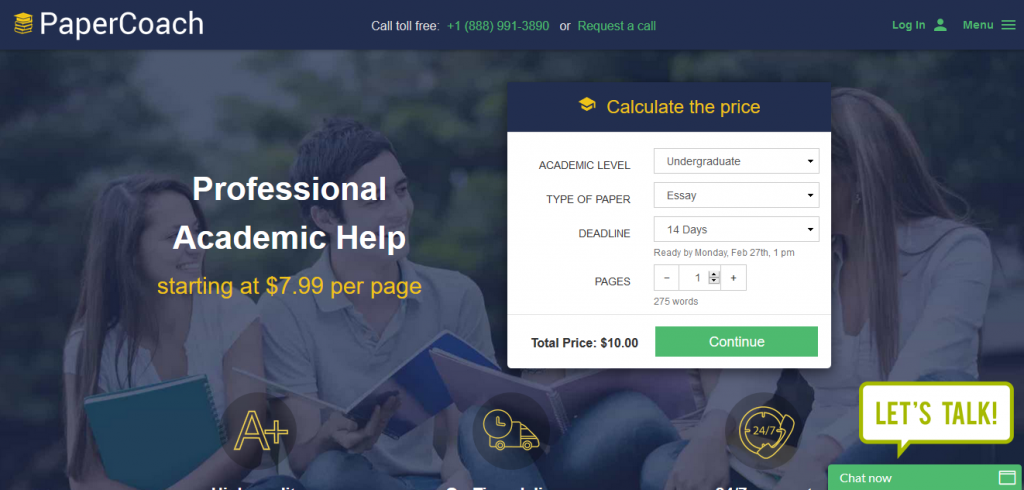 PaperCoach Review
PaperCoach.net is a writing company that offers a unique opportunity of splitting the payment apart. Additionally, the service promises high-quality papers and unlimited free revisions up to the point where you find your paper to be perfect. Sounds inviting, doesn't it? Let's see if the company stands behind these promises.
Services
At first glance, the PaperCoach company looks trendy and inviting. However, once you take a closer look, you will notice that the website has a serious lack of information since even some extremely important pages such as Services or Discounts are missing.
If you want to know whether the company can write your paper or not, you can only check this in the free calculator on the home page. The dropdown list contains the majority of commonly requested papers and some more specific papers. According to this list, you can order essays, dissertations, article reviews, biographies, case studies, business plans etc.
Prices
Pricing depends on the number of pages, academic level and urgency. Interestingly, there are no separate prices for different types of papers, except for three main categories: writing from scratch, editing/proofreading and problem solving. This means that both simple and complex papers would cost the same, which is a bit concerning.
According to the Pricing table, the lowest price for a page of written content is $8, while the highest one is $66. This means that PaperCoach is a relatively cheap service, perhaps even too cheap for the high quality they promise to deliver.
Discounts and Special Offers
Discounts are nowhere to be found on the official website of the company, nor are any codes or special offers. The company highlights the opportunity to pay for the paper after checking the preview version, but the only solution they mention in the case you do not like the content is unlimited free revisions. Considering that students are often on tight deadlines, they may not benefit from this offer at all!
Conclusion
Now that we have evaluated the services, pricing and discounts, it is safe to conclude that this is a legit and cheap company. However, the vague content and numerous empty promises on the website indicate that the company bites more than they can chew, especially because the feedback we found online reports bad content. The biggest misunderstanding of all is that, even though the service gives you the opportunity to pay for your paper after it is written, this does not mean that you will not be charged if they write a bad paper.
Written by: EssayUniverse
Service
Date published: 13/02/2017
2.1 / 10 stars