PaperNow.org Review
PaperNow.org Review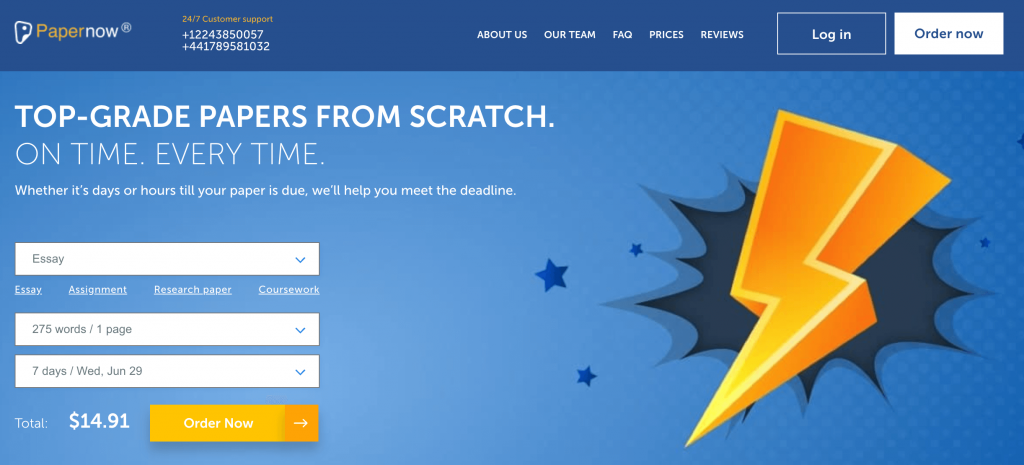 The information that Paper Now is functioning as an academic content provider for quite some time now panned out. But, after going through some paperNow.org reviews, we are unsure how they've survived for so long. It seems like almost all PaperNow reviews that aren't published on the website (the website has only amazing comments to show you) judge the way this company works. The complaints are about bad quality and plagiarism mostly, but not only for last-minute papers. It simply doesn't look like their writers failed to complete a task because the deadline was tight. This seems to happen very often, which is why we did this PaperNow.org review.
Services Offered
This PaperNow review part went really well. The list of academic writing help options on this website is impressive. We couldn't think of something that wasn't there, and the pricing is definitely making heads turn when you compare it to other companies with this kind of service range.
On the website, you can order papers of any kind and for any deadline. This is also a type of paper writing service that handles urgent deadline that goes as far as 1 hour! This is perhaps the second time we find a company with this kind of option, and while it is impressive when you have forgotten to write an essay that's due really soon, it's very unlikely that the quality will be great when you give a writer such a small timeframe.
We focused on this at first, trying to figure out how they handle such deadlines, especially since they put no limit as to how much you can order within this deadline. You can basically order a dissertation to be written in an hour, which is pretty much impossible.
The only thing we learned was that the company can reject your order when you ask for such a tight deadline. We read about this in an angry PaperNow review where the customer was informed of the cancellation an hour after his order, which effectively made him miss the deadline.
Prices and Discounts
To say that the pricing of PaperNow is low would be an underestimation. Their prices are really low and, compared to all services that ranked highly in our reviews, this would be quite a hit among students if the quality was a proven thing.
For example, this is a place to get an essay for $13.50 per page, discount excluded. This price will grow to $36.36 for PhD level if you order it in time – within the longest deadline of 20 days. All this makes the service highly competitive in terms of prices, especially because they also have discounts.
There's no loyalty program to rely on, which was the first bad thing we discovered about PaperNow.org in our direct evaluation. There's just a first-time discount code for 15%, which is great news, but still not enough to make students want to order regularly here. Even so, if the quality by PaperNow.org is as great as promised, the prices would be more than just attractive even without any discounts.
Quality
Unfortunately, this part killed all the good impressions we had about PaperNow at this point. The quality is unmistakably bad and, after receiving the kind of paper we got, we don't believe that they really choose qualified writers to do the work. They obviously don't work with native writers to save some money and be able to give you the quotes, which is detrimental to the offered quality.
In the case of our order, the paper had plagiarism and mistakes, the same as we read about many papers that customers received from PaperNow.
Support
Customer support is easily reachable thanks to their decision to include a live chat and phone option on the website. You'll find this information right after you access the website, but you shouldn't expect much of a service if you have troubles like ours.
At the beginning of our research, we talked to some agents discussing the lack of discount information. They were more than kind to describe everything and even offered to help with the ordering. But, when the real issue happened with the writer and the paper, the agent on the phone became somewhat hostile and hung up on us without providing any help whatsoever.
General Impression
For the many promises this company makes, they deliver very little. Except for a good service list, tight deadlines, and great prices, they have nothing else to offer to you as a customer. This becomes irrelevant when you receive a very low-quality paper and no guarantees for it.
Do We Recommend PaperNow.org?
After everything we've seen and learned about the writers and the support team at this particular company, we don't recommend them to you as a customer. The quality is simply too low, and there's no support to help you when things go wrong.