EssayWritersWorld.com Review
EssayWritersWorld.com Review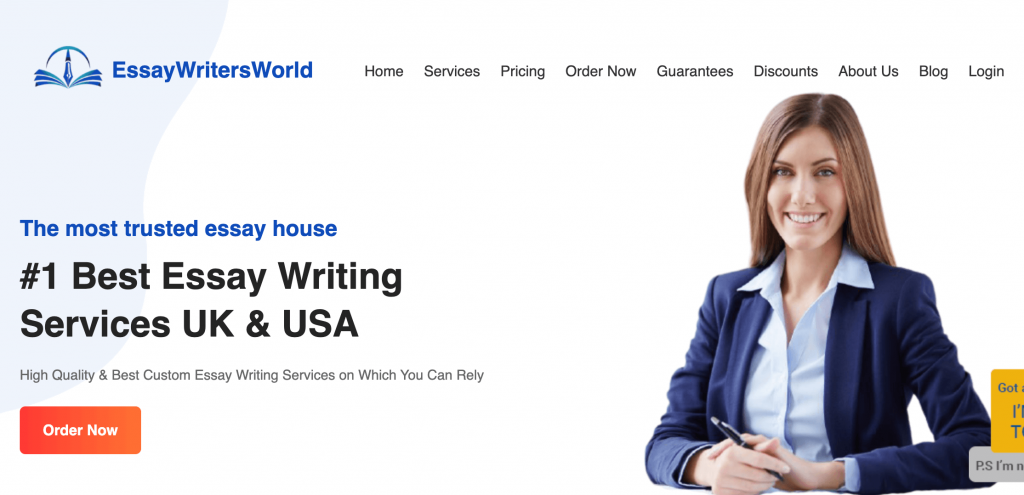 EssayWritersWorld is an online essay writing service. The site offers custom writing help for students of all academic levels.
The web domain opens up on the main page, where you're greeted by a slide presentation, a chatbox, and a price calculator. At the top of the page, you can see the menu, "Log-in" and "Register Now" buttons. Also, you can access social media on the right, while on the left, the email icon doesn't work.
In this EssayWritersWorld.com review, you'll find out if this writing company is a reliable service.
Services
If you decide to click the "Services" hyperlink in the menu, the website will redirect you to a presentation page. Also, on the right side of the site, you can find the services with their hyperlinks.
Essay Writers World presents the following services:
Dissertation Writing Services;
Thesis Writing Services;
Custom Essay Writing Services;
Coursework Writing Services;
Research Proposal Writing Services;
College Paper Writing Services;
Research Paper Writing Services;
Capstone Project Writing Services;
Book Review Writing Services;
Scholarship Essay Writing Services;
Application Essay Writing Services;
Case Study Report Writing Services;
Dissertation Formatting Services;
Dissertation Proofreading Services.
Prices
The fifth hyperlink you'll find on the menu is "Pricing." The only presentation regarding pricing is on the "Why Us" section, where they claim to provide quality services for a reasonable cost. EssayWritersWorld redirects you to a price calculator. Here you can select the following:
Type of order, such as "Application Essay" or "Dissertation;"
Academic level (which doesn't work);
Citation style, such as MLA and APA;
Deadlines (which doesn't work);
A number of pages or words.
Then you can click "Calculate" and "Order Now."
You can also estimate the price on the main page where there's a calculator with the same requirements. On both pages, the "Academic level" and "Deadlines" sections don't work, which is suspicious and unprofessional. As a student, you want to know whether the site can offer you services within a specific time frame and for a particular academic level. If the website can't provide answers, then you may be wasting your time and money trying to find out.
We searched for EssayWritersWorld reviews online, and we found many unsatisfied clients who claimed that the site charges more than the initial calculated price. Furthermore, some reports stated that the service doesn't include formatting and proofreading help, which should be included in the package.
Other Essay Writers World reviews argued that the site doesn't even mention the possibility of a refund.
Discounts
Essay Writers World also has a designated section for promotions, called "Discounts." The hyperlink opens up a descriptive page. The site keeps presenting the services it provides without mentioning any sort of discount.
Additionally, the calculator seems to estimate the price before and after a discount, and you don't need to apply any code. However, this may be a marketing trick to simulate a price cut.
Furthermore, the chatbox promises a discount after you ask a question. Still, according to more than one EssayWritersWorld review, the discount is nowhere to be seen even after a long conversation with the customer help. This dissimulation is a typical scheme used in the online writing services industry. The website seems to make you spend as much time as possible on their domain, in hopes that you'll decide to order an essay from them.
Quality
In the "Why Us" section, Essay Writers World claims to provide "Pinnacle Of Quality" services. Plagiarism-free content written by "Extremely Prolific Writers" at a reasonable price because they "care for your money," as stated by the site itself.
We examined the site and online forums with Essay Writers World reviews. Some reports pointed out that the writers aren't proficient in English, as some articles had grammar errors. This issue is easy to verify because grammar errors are scattered all over the website.
As mentioned before, some reviews complained about the pricing system and the lack of a refund method.
We decided to try the service ourselves, and we commissioned a college thesis in genetic biology. The article was three pages long and contained formatting and grammar errors. So, we can confirm what the other reviews claimed.
Support
As soon as you open the first page, a chatbox shows up in the bottom right corner. The chat presented a picture with a smiling woman. Next to the image, there are two dialog boxes. One encourages you to ask a question while the other claims that a bot doesn't manage the customer support.
EssayWritersWorld claims that their customer service is available 24/7.
Moreover, in the "Contact" section, you can find:
A USA/UK phone number that's not toll-free;
An email box that doesn't redirect you anywhere;
A box where you can contact the website for more information.
According to more than one Essay Writers World review, a bot runs the chatbox, unlike the site advertises. Additionally, some reports stated that the website stops working when you try to reach them, while the phone numbers don't work.
Do We Recommend EssayWritersWorld.com?
We cannot recommend EssayWritersWorld in good faith. The site is unprofessional and doesn't offer excellent services. Furthermore, many online reviews complain about pricing, customer support, and discounts. So, according to our Essay Writers World review, you might want to look for another essay company.