PayMeToDoYourHomework.com Review
PayMeToDoYourHomework.com Review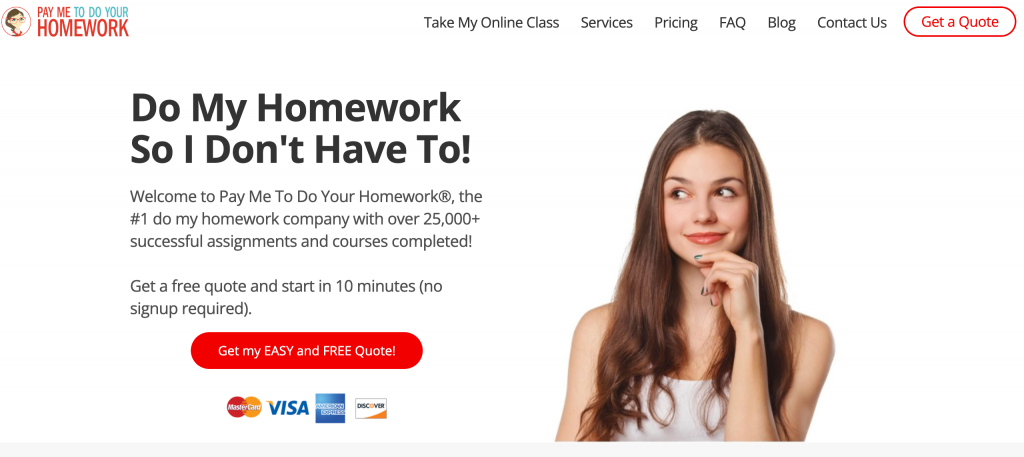 Pay Me To Do Your Homework a company that states "we want you to know there are real people behind this business" on their website. However, they don't offer any actual information on who does the homework. Although you can find information about the CEO and founder of the company, Jessica Mott, the writers are just vaguely described as experts in every subject. Their website does look good, but what can you expect from the writers at PayMeToDoYourHomework? Here's what you need to know.
1. How Pay Me To Do Your Homework Works?
To submit an order on PayMeToDoYourHomework.com you have to fill out a form on the website. You will receive a free quote when you finish filling out the form. You'll be required to select the type of request you have. The next step is to write what class subject you need help with, the due date, and a description of the project. Once you do all of this, you'll know how much it will cost you and you can pay immediately. After you pay, the task gets assigned to one of the writers on the team. The ordering process is incredibly simple and you can find the form you need to fill out on the main page of the website.
2. Types of Writings PayMeToDoYourHomework Offers
You can ask for help with exams, quizzes, projects, writing assignments, and homework. In fact, you can even use the service to hire a person to take online classes for you. The company guarantees that you'll either get an A or a B if you hire one of their employees to take your online class. The company notes that it can help you with a number of different subjects. They claim that they'll be of great assistance in case you have an exam that you need to prepare for or an essay you need to hand in soon. Just some of the subjects they're supposedly experts in include mathematics, education, science, literature, architecture, psychology, sociology, and computer science.
Although they offer a number of services, they clearly state that they don't help with high school or middle school assignments. They also don't provide assistance for proctored exams and professional certifications.
3. Prices and Discounts
The first thing that you should know is that they don't offer any discounts. On top of that, the services are quite expensive. You have to pay $49 for help with a test. If you need a research paper on an essay, it will set you back $29 per page. Homework costs $29 per assignment. In case you need help with your finals, the prices start at $119 per exam. Meanwhile, if someone taking an online class for you they will charge you $99 per week. You may be wondering whether the company can justify the high prices. You can find out more about the quality of their services in this PayMeToDoYourHomework review.
4. Quality and Guarantees
If you initially thought it would be great to use this service for an essay or exam in the future, you'll be disappointed. Most of the PayMeToDoYourHomework reviews you can find online mention that the quality of help you'll receive is extremely bad. According to online user reviews, the majority of students did not receive an A or B, the writing is filled with mistakes, and the writers often missed deadlines. On their official website, the company notes that PhDs, CPAs, lawyers, and other qualified individuals work as writers for them. Nevertheless, you'll instantly see that's not really the case if you order a paper from them.
5. Customer Support
You may be thinking "is Pay Me To Do Your Homework legit?" Legit assignment help services will introduce you with the people behind the curtains. You will be able to interact with them. When it comes to this company, they don't even give you a phone number. Talking to them over the phone is not even a possibility, and they also don't have an online messaging service. The only way you can contact them is through email.
6. Additional Features
We already mentioned the high prices in this Pay Me To Do Your Homework reviews, but know that you're mistaken if you were thinking you were going to get something extra by paying more. Know that there are companies that offer cheaper services and more features. Considering they charge you $29 per page for an essay, you would expect that you'd get at least some free pages or revisions. Even though you're supposed to get revisions, writers are unresponsive in most cases after submitting the paper.
Summary
Like most of the other PayMeToDoYourHomework reviews you can find online, we will have to give this service a bad score. It's important to note that this isn't a scam website. You will definitely receive assistance with your homework or quiz, although sometimes not on time. However, you'll almost certainly not get an A or B with the "experts" behind this company. Here's what's wrong with this service:
They don't have a phone number or an online messaging services.
They don't have any free samples available on their website.
They charge insanely high prices for the quality of work they offer.
You can't find information about the employees and their exact qualifications on the website.
The writers often become unresponsive after submitting work.
There are many better websites that offer the same or similar services like this company. It's better to search for an alternative in our rating of the best essay writing services in USA than pay a hefty sum for low-quality help.