SmartWritingService.com Review
SmartWritingService.com Review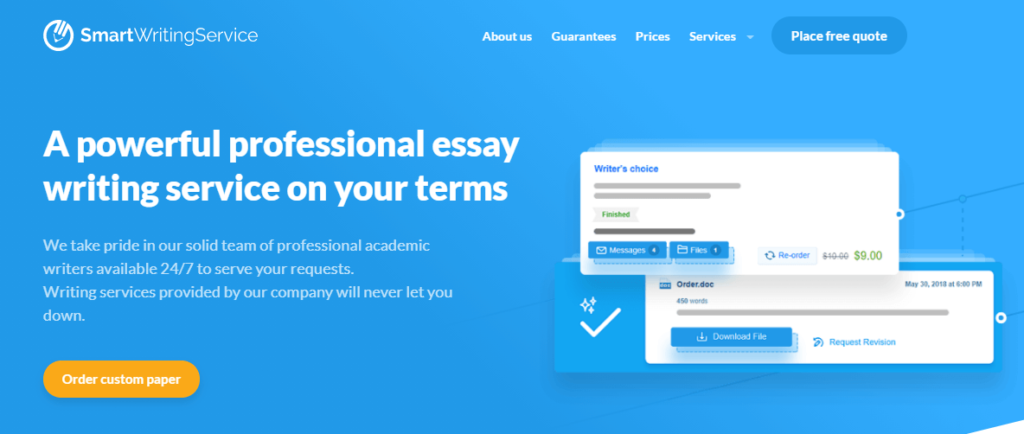 There are multiple reasons why even the best students sometimes require help of professional academic services. In case you have a job, feel ill or uninspired, or simply want to take a break from college to recharge your batteries, you can rely on an essay writing service to take some of the load off you.
Although it's easy to find an academic writing service, you can't always trust the first website you come across. There are fake companies that want to scam people and make a quick buck, which is why you should be careful. Read our SmartWritingService.com review to find out whether you can trust this company.
Services
The services offered at SmartWritingService is what you would expect from any similar service. There are numerous types of assignments they can help you with, such as:
Custom essays
Creative writing
Case studies
Dissertations
Personal statements
Research papers
Lab reports
Aside from choosing which type of assignment you want to be written, you'll also have the option to pick the deadline. You can clearly see on the front page of their website that they provide the option of urgent deadlines in case you need a paper written in only 4 hours. In case you're not in a rush and would like to save some money, you can select a 1-month deadline.
You will have 5 different academic levels to choose from – high school, undergraduate (years 1-2), undergraduate (years 3-4), graduate, and PhD. Although Smart Writing Service is primarily for college students, they offer essays written at the high school level.
Prices
The prices are above the industry average regardless of the academic level you choose. It's understandable that they would want to charge a lot for an essay written urgently, but we think that asking for $59 per page for an essay written at the graduate level is too much. Even if you select the undergraduate (years 1-2) academic level, it would still set you back $40 per page.
In case you want an essay written within 3 days at the undergraduate (years 1-2) level, the price would be $22 for each page. The price goes down considerably if you select a 14-day deadline, in which case it is $14 per page. However, most students who use academic writing services usually don't have this much time and need a paper written quickly.
As we were writing this Smart Writing Service review, we thoroughly analyzed this company's website and found no information regarding discounts. We created an account on their website and found out that you don't get any type of discount on your first order. There are also no loyalty discounts or bonuses.
Quality
SmartWritingService.com is a website that looks legit, but that doesn't mean much in the professional writing service space. There are many websites that offer essay help and look incredible but actually scam people out of their money. That's why we always make sure to make an order and check the quality of the services for ourselves when writing a review.
We took this approach while writing our SmartWritingService review and ordered a 10-page essay with a 3-day deadline. We patiently arrived for our essay to be completed after 3 days, but we didn't receive anything. Another day went by and there was still nothing so we decided to contact customer support via mail and get to the bottom of this.
We heard back after more than an additional 24 hours had passed and finally received the essay. The paper that was supposedly written by a professional academic writer contained plagiarized content and many grammatical errors. It seemed as if it wasn't written by a native English speaker. We then asked for a revision but didn't get any reply.
In the meantime, we decided to see what others were saying about this service online and found out that many experienced the same problems as us. According to numerous Smart Writing Service reviews, it's an often occurrence that the writers are late with assignments. On top of that, many complained about how the writing was bad regardless of the academic level you choose.
Customer Support
There are supposedly three ways you can reach customer support. From our experience, not one of them is effective. There is a phone number you can find on their website, but no one ever picks up. We dialed it several times at various times during the day and they haven't picked up once.
You can also try contacting them via email. We tried doing this after we were disappointed with the paper we received, but we didn't get an answer. According to several SmartWritingService reviews found online, the company rarely responds to emails. There is a live chat option on the website, but it can take hours before you get in contact with a customer support agent. But even when they respond, it's unlikely that they'll be of any assistance. Some users even note that customer support can be quite rude.
Conclusion
If you want to hire someone to write an essay for you, then you should avoid Smart Writing Service. Based on our experience and multiple user reviews found online, this is not a service that we would recommend. The content often contains a lot of grammatical errors and there's a good chance you won't receive your paper on time, which can be very frustrating for students who are on a tight deadline. There are better academic writing services online that provide reliable assignment help at more affordable prices.