EssayUSA.com Review
EssayUSA.com Review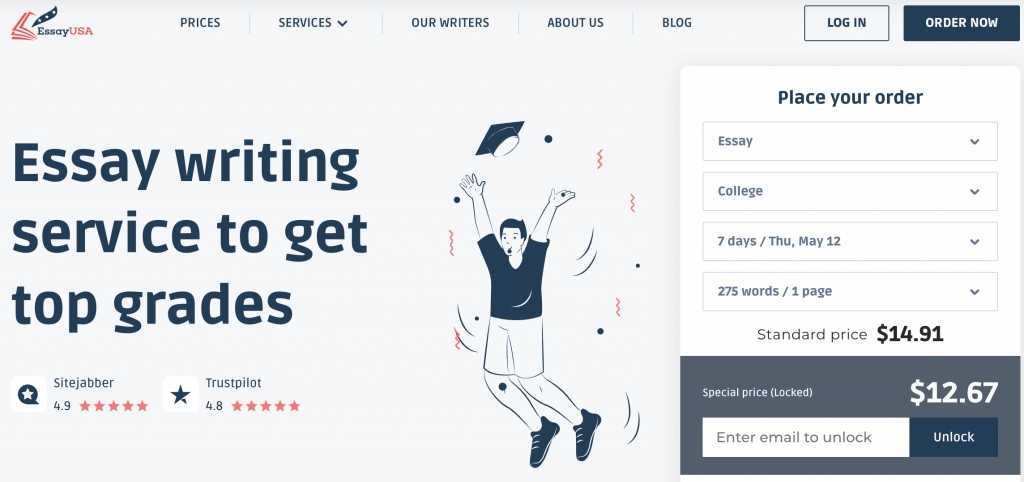 Do you need help with your essay? If you struggle to write a high-quality essay, you are not alone. Many students find it difficult to write essays because they do not have the time or the skills required to do so. This is where EssayUSA.com reviews come in.
EssayUSA.com is a website that provides essay writing services to students who need help with their essays. Now, before you collaborate with a service like Essay USA, especially if you are a new customer, the most reasonable thing for you to do is research about the service.
This way, you can be sure that you are getting what you paid for and that your money is not going to waste. If you want to know more about EssayUSA.com, we did this EssayUSA review for you. In this EssayUSA.com review, we will touch on these five key areas:
About EssayUSA
The Services Offered by EssayUSA.com
Quality of Service
Key Features of EssayUSA.com
Customer Support
About EssayUSA.com
Looking on the EssayUSA.com website, we found that it was only started a few years ago. There is no year specified on the website, and you can't really tell the last time the page was updated. One most noticeable thing you will most certainly notice once you land on the Essay USA website is how good they claim to be.
We get it; most companies do this. Your job is to sell yourself and make the customers believe that you are the best at what you do. To place your order with EssayUSA.com, you will need to fill out a very well-displayed form on the homepage.
In filling out this form, you will need to submit information on what kind of service you need from Essay.USA. You will also need to specify when you need the paper done and the page or word count. The form on the homepage will help you calculate the total price of the service you want. After this, the site will assign you a writer, and then you will wait for them to complete the order.
As the writer is working on your order, EssayUSA.com allows you to keep in touch with the writer, whereby you can always message them to know about the progress of the order. The writer will submit the order when they're done, after which you will need to analyze it, checking grammar, paper structure, and the information in your paper.
The Services Offered by EssayUSA.com
According to a few EssayUSA reviews we came across when researching this service, EssayUSA offers a wide range of services for students who need help with their essays. These services are grouped into two primary categories: writing services and essay tools. Here is what we found out about these services:
Essay Writing Services: In this category, EssayUSA.com offers help with all types of essays, including application essays, argumentative essays, cause and effect essays, compare and contrast essays, descriptive essays, definition essays, evaluation essays, expository essays, persuasive essays, process essays, and scholarship essays etc.
Essay Tools: In this category, EssayUSA offers help with essay writing, citation, and editing. They have an 'Essay Checker' that helps you check for grammar, plagiarism, and character count. These tools are available for free even to non-customers.
Quality
We understand just how important quality is when it comes to essay writing services. This is because the quality of your essay will determine your grade and also how your instructor perceives you. In checking the quality of EssayUSA.com, we based our research on the site content, the overall experience of other customers, and course, the samples displayed on their website.
· Content
The first thing we did when checking out the quality of EssayUSA.com was to check their website content. As we browsed through the site, we found that most of the content was related to essay writing. There were very few posts on anything else, and this made us question the quality of their services.
· Grammatical Errors
Some bias EssayUSA.com reviews won't show you this. We also found several grammatical errors in the website content. This is a big red flag as it shows that the company is not very professional.
· Testimonials
There are testimonials on the site, but we could not determine if they are real or not. This is because we could not find many EssayUSA reviews away from the website, which made us, question the validity of the testimonials.
· Reviews
There are not enough EssayUSA.com reviews away from the website to determine if EssayUSA is indeed trustworthy as they claim or not.
These findings do not explicitly conclude that EssayUSA.com is a bad essay writing service. However, they raise some serious concerns that should be addressed before you decide to use their services.
Key Features
EssayUSA.com claims to have some key features that make them stand out from other writing services. One thing that is for sure is that other writing services are also using these same features.
What we really found out slightly unique about EssayUSA is the fact that they have a blog section and essay tools. The primary concern with these features is that some of their blog posts are poorly written, and the essay tools are not as effective as they should be.
Pricing
The pricing system at EssayUSA.com is transparent and very straightforward. You can see the price of your paper depending on the number of pages, urgency, and type of paper you need. There are also different discounts that you can enjoy depending on the type of paper you need.
The starting price for a 1-page essay at EssayUSA.com is $18.19. They have a special price for new customers; $15.46 per page, which is about a 20% discount. If you need your paper urgently, you can get it done within 12 hours, and it will cost you $32.12. With the special discount for new customers, the price will be $27.30.
Customer Support
EssayUSA does have a customer support system in place. We tried to reach them via live chat, but it did take quite some time before we could get a response. The customer support agent was friendly and was able to answer our questions satisfactorily anyway.
In Closing
After carefully reviewing EssayUSA.com, we have concluded that they are a good essay writing service. However, there are some areas that need to be improved, such as the quality of their content and the effectiveness of their essay tools. Overall, the platform isn't the worst we've seen, but there is definitely room for improvement.