EssayLab.org Review
EssayLab.org Review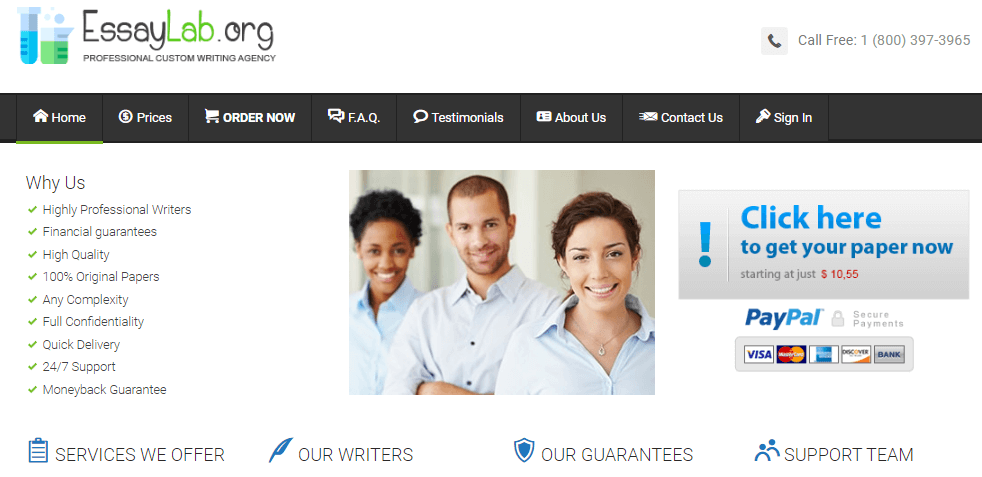 EssayLab Overview
EssayLab.org is yet another company working in the content providing business. The website offers all types of academic papers and promises to do this with high quality and competitive prices. The current reputation is not bad and there is not much to be said about it because the company is relatively new, but there are several customers' complaints about delays in delivery that can be seen as worrying.
The website of Essay Lab is simple, but not very easy to navigate. There is plenty of content to be found, so you would have to spend hours checking the content before placing the order. And even though there is plenty of content available, we still couldn't find some very important information when we were looking for them. Read on.
Service
EssayLab offers a grand variety of academic paper services, including essay papers, dissertations, lab reports, book reports, power point presentations, research papers, term papers, admission essays, thesis papers etc. Additionally, they offer editing and proofreading.
The website offers money back guarantee, timely delivery, original papers, full confidentiality and financial guarantees. Generally, the ordering process is completely valid.
The lack of term and conditions tab on the website is a big disadvantage. Sure, there is a mention of free revisions, but the information is limited to only that.
Prices
Prices here are not really competitive, mostly because they offer the lowest price of $16.50 for high school academic papers. Also, there is no specific price for a different type of academic paper, so we can assume they charge the same for any paper and only consider the academic level.
Additionally, the shortest and longest deadlines are vague. The shortest deadline is 3-23 hours. Firstly, the range is too broad for the same price to apply. Secondly, how can anyone provide clients with top-quality content in only 3 hours? Even though 3 hours is an option that can rarely be found with content providers, there is no such thing as high-quality guarantee that can come out of such a short deadline.
The longest deadline is 15+ hours, so we are not quite sure what this means. This leaves the company plenty of space to be late with deliveries, without suffering any consequences.
Discounts and Special Offers
This company offers no discount whatsoever. We neither managed to find any coupons or lifelong discounts for returning customers nor any indication that you may get a reduced rate when ordering larger papers.
In general, this particular company is valid. However, the lack of terms of service information and the fact that there is no discount offer puts the company low in our list of good content providers.