DarwinEssay.net review
DarwinEssay.net review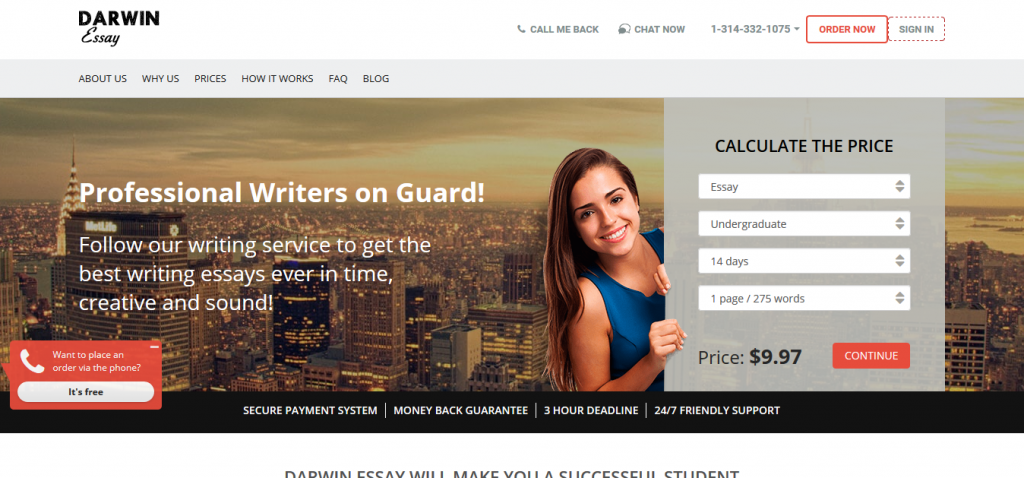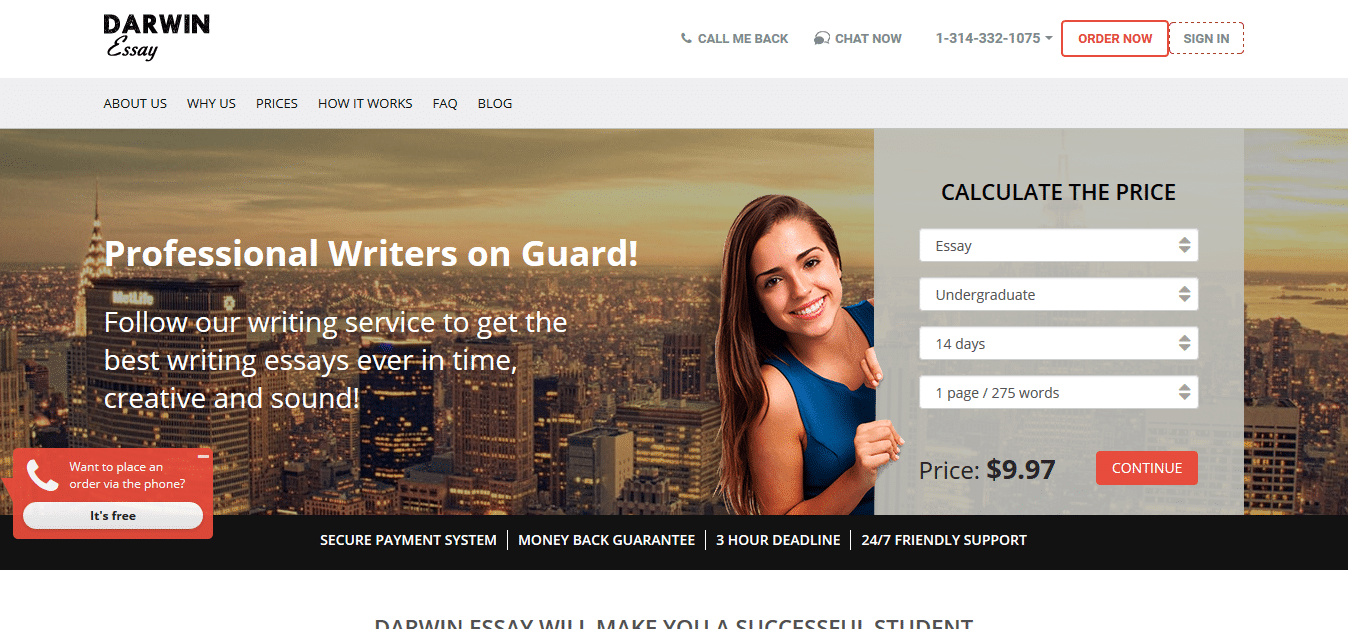 The quote on the official website of DarwinEssay.net says 'follow our writing service to get the best writing essays ever in time, creative and sound'. What do they mean by 'follow' and where can you follow the service? This sentence is very vague and wrong in several ways, which makes us wonder if the service is truly the best content provider. Read on to see what we found out.
Services
Even though the company's name indicates that they work on essays, DarwinEssay actually offers a wider range of academic services. Since there is no Services page on the website, you should check the dropdown list on the calculator on the homepage.
What we found to be confusing is that the majority of commonly requested papers come under the 'Essays' category. How can case studies, movie reviews and research papers be considered as essays?
Prices
According to the Pricing page, prices do not apply to a specific type of paper, but to a separate category. However, since the categories here are different from those on the calculator, we do not know which papers go in which category.
Prices start from $9.97 per page for undergraduate level papers with a deadline of 14 days and range up to $197 for admission content with a deadline of only 3 hours. This means that the company is really affordable, as they promise on the website.
Discounts and Special Offers
Once we opened the website, a pop-up that said 'special offer for clients from your country' appeared. This is a bit transparent since it obviously appears to every visitor, regardless of their location. However, it is still a special offer that, at the moment, means you get free VIP customer service with your order.
According to the website info, customers can get a one-time discount that ranges from 5% to 10%, depending on the order price. However, this discount does not apply to orders under $30. Furthermore, if you want to enjoy a discount later on, you can only do this if you contact their customer service and if your order is over at least $500.
Conclusion
After evaluating DarwinEssay.net, we can conclude that this service is not a good choice for your papers. The biggest disadvantage is the discount policy since there are no first-order discounts or lifelong discounts. They only have a one-time discount that is limited and bulk discounts that are very hard to get. Additionally, the company's website is far from good and contains many mistakes in terms of content.